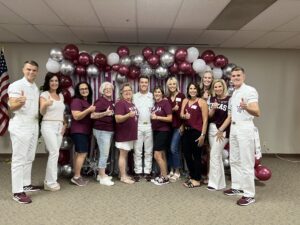 HOWDY! 
Welcome to 2023-24 Coppell Aggie Moms' Club
Our Monthly Meetings are the second Tuesday of the Month at 7 pm.  This year we will be having our meetings at Valley Ranch Baptist Church 1501 E Belt Line Rd Coppell.
Our Howdy Meeting for the new school year will be July 15th from5-7pm.  We will have membership forms and lots of information about the new school year.  We can't wait to see you there!  Be on the lookout for our postcard with details.
For additional chapter information please contact our Chapter President Donna Starling at coppellamc.president@aggienetwork.com or text to (214)557-6209.
Follow all our updates on the Coppell Aggie Mom Facebook page.
Meeting Dates & Locations
Regular Meetings are held the second Tuesday of each month at 7:00pm ending by 8:30pm, September thru May.
Sept 12, Oct 10, Nov 14, Dec 12, no Jan, Feb 13, March 5, April 9, May 14
Valley Ranch Baptist Church 1501 E Belt Line Rd Coppell, enter through the back of the building.
Membership
The Coppell Aggie Moms Club welcomes Aggie Mothers from Coppell, Flower Mound, Lewisville, Highland Village, Valley Ranch, and Irving.  For additional membership information please contact Debbie & Patricia at coppellamc.membership@aggienetwork.com.
Registration – To get ahead of the process, please click on the our online Membership form to get registered.  The link is: 2023-24 Registration Form 
Payment – Payment can be made by three methods… cash, check or credit card.
If paying by check or cash, bring $30.00 to your first meeting.
If paying by credit card,  it will be $32 (includes a $2 processing fee).  Please click the link to pay online.  Membership Payment
Communication
If you are an Aggie Mom, please request to join our Coppell Aggie Mom Facebook page for the latest chapter information or email CoppellAMC.President@AggieNetwork.com
Fundraising
Fundraising activities will be held during the Spring semester.  Stay tuned for details.
If you would like to support our mission with a monetary donation.
New to Texas A&M?
Please click the link to our MayDay a collection of helpful tips on all things Aggie from a lot of Aggie Moms.  Hopefully this will ease you into the Maroon way of life.
Activities
In addition to meeting other Aggie Moms, learning more about Texas A&M and its rich traditions, and of course, sharing all about our Ags, club activities include donations to Texas A&M campus organizations.
Our club activities include:
v   Monthly "support our Aggies" projects
v   Fall and Spring "Exam Packs"
v Birthday cards to our Aggies
v   Gifts to graduating Aggies
v   Assist Aggies who are homeless or in need.  See this article in The Battalion.
v   Participation in Federation of Texas A&M Mothers' Club activities and events
If you know any moms that have students headed to Texas A&M this summer or fall, please pass this information on to them:
Because of recent Texas legislation, TAMU will not be able to provide Aggie Moms' Clubs with contact information for incoming Aggies for Summer and Fall 2022 unless the students opt-in to release their contact information.
This means the Clubs can't send new Aggie Moms information about Aggie Moms' Club meetings and activities. "Opting in" can be done by selecting "I authorize Texas A&M University to release my directory information." through their student's AIS portal.
The Federation of Texas A&M University Mothers' Clubs was organized in 1928 and its'  mission is "by individual and united effort to contribute in every way to the comfort and welfare of the students and to cooperate with Texas A&M University in maintaining a high standard of moral conduct and intellectual attainment".  Texas A&M University Mothers' Clubs are proud organizations, proud of Texas A&M University and proud of the daughters and sons they send to Texas A&M.  Aggie Moms are also proud of making a contribution: to the education of their students, to the future of Texas A&M University and to the future of the Great State of Texas.
Thanks and Gig'em!